Description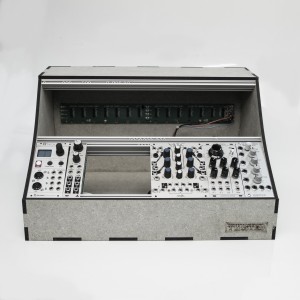 Modular Eurorack case built from various available materials. Pictured is the available from stock in moisture resistant MDF. So when you spill your coffee over the rack at least the case will survive.
Built to accommodate Doepfers  A100 DIY 84hp kit which fits perfectly. Modules or DIY kit not included. Flat packed and shipped from the UK worldwide. Will need to be constructed and glued. All holes drilled.
Now available to fit TipTop Audio Rails in 84hp / 104hp / 126hp / 168hp
Please choose Case height (in HP) Rail Profiles (Doepfer or Tiptop (not included)) and Case width (in HP)
Custom sizes and rail fitments available to order. Please drop me a line at warren@twisted-head.com. test
All orders made to order so please make allowances for delivery.